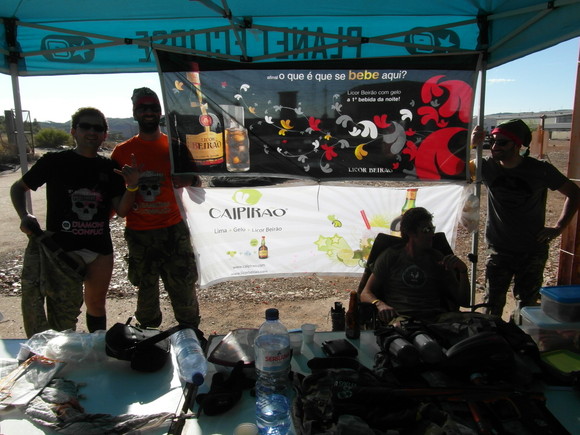 PARABÉNS PAINTUGAL
Depois do descanso aqui vai o rescaldo.
Tive a honra de ser um dos Generais neste magnifico evento que foi o 8º Aniversário da Paintugal.
Apesar de no Sábado ter chegado tarde, adorei o formato de dois dias e pelo que vi e ouvi toda a gente adorou, espero que seja para manter.
Um spot execelente com uma organização ainda melhor tornaram este evento no melhor em que já participei.
O jogo muito bem delineado e num terreno optimo.
Muito bom a quantidade árbitros.
Excelentes confrontos e, apesar de alguns stresses normais, sempre bastante fairplay.
O convivio como sempre do melhor.
Como General queria agradecer:
- Ao Pataias, meu Coronel-Adjunto - na montagem da estratégia, sempre lá para ajudar em tudo e no Sábado fizeste todo o trabalho por mim OBRIGADO
- Aos meus Comandantes de Esquadrão Alferes, Jimmy e Nimrod - a afinar a estratégia e a fazê-la cumprir em jogo OBRIGADO
- A todas as equipas que fizeram parte do ESL - pelo empenho e garra mostrada OBRIGADO
- To BEF - for accomplishing all your missions and your guidance THANKS GUYS
- Ao PRocha General inimigo - pela luta dada OBRIGADO
- A todas equipas da FRU - pela tinta trocada OBRIGADO
Muito obrigado à Paintugal e todo o staff que trabalhou para montar este evento.
PARABÉNS PAINTUGAL
Photo slide show da Photopaintball


---
Permissions in this forum:
You
cannot
reply to topics in this forum